The recipe is from here:
Ingredients
Flour, 660 g.
Butter, 100g
Water, 200 ml.
Milk, 200 ml.
Sugar, 25 g.
Dry baker's yeast, 10 g.
Eggs, 2 units.
Salt, a teaspoon.
Preparation
In a big bowl add the following ingredients:
200 ml of warm milk
200 ml of warm water
10 grams of dry bread yeast
25 grams of sugar
Stir well
15 to 20 minutes – leave it to rest
Add to the bowl:
1 egg
1 egg white – keep the yolk for later
660 grams of Flour
1 teaspoon of salt
Mix well the flour and the rest of the ingredients. The dough will be sticky.
On a flat surface pour some cooking oil and transfer the dough from the bowl to the surface for easier kneading. Knead it well in different directions for couple of minutes. Form a ball from the dough and put it back into the bowl.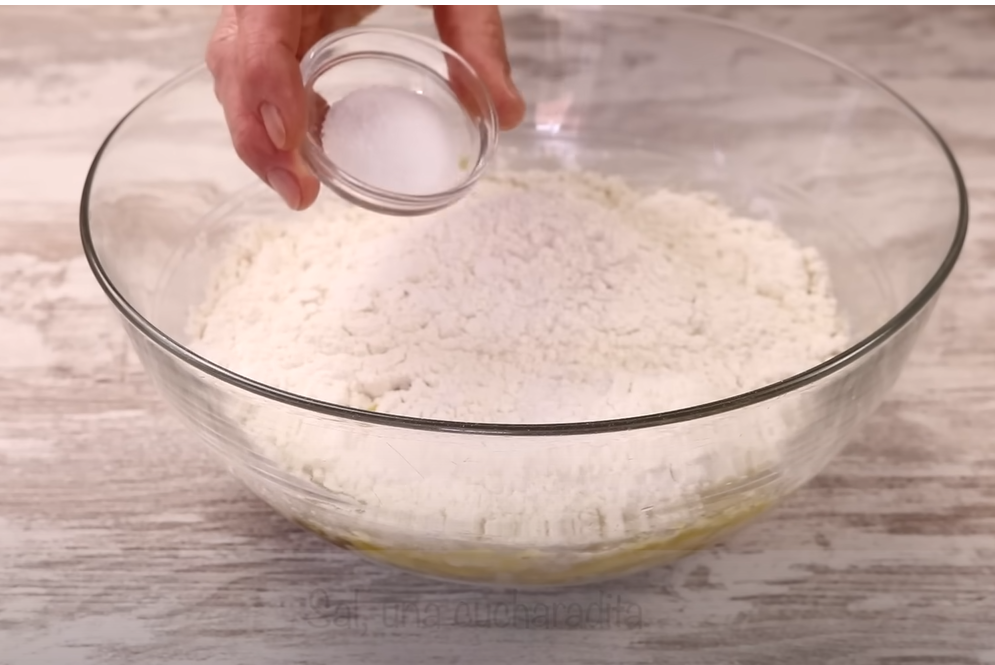 1 hour – leave it to rest.
It should double its volume. Transfer the dough from the bowl to the flat surface and knead the dough for a minute.
Divide the dough into 12 equal parts.
Spread each of them into a flat circle.
Stack them while covering each with a melted butter except for the top one.
30 – 40 min. – leave it to rest
Transfer the dough to the flat surface and spread it until it makes a circle with diameter of 50 cm.
Use a pizza cutter or a similar tool to cut the circle into 12 equal parts
roll each part as shown in the video to form each croissant
Put a baking paper at the bottom of the baking pan and arrange the croissants on top of it
20 min – leave it to rest
Add a little bit of milk to the egg yolk
mix it well
use a brush to cover the croissants with the mix
Pre-heat the oven to 180 degrees Celsius (360 degrees Fahrenheit)
Bake for 20 to 30 min.
Take the pan out of the oven and let the croissants cool of. Cover the pan with aluminum foil, so the croissants do not dry up.
You are done – enjoy!