https://www.tripadvisor.com/ShowTopic-g187309-i118-k6252577-How_to_go_from_Terminal_2_to_Terminal_1_at_Munich_Airport-Munich_Upper_Bavaria_Bavaria.html
It is possible to stay within the transit area and travel between Terminal 1 and 2 if you use the Airport Shuttle Bus. The bus is divided into 2 sections: Schengen and Non Schengen.
So if you are coming from Terminal 2 Non Schengen, you would take the bus at the H gate (follow the signs for the Shuttle Bus to Terminal 1) and get out at the C08 gate (Non Schengen) in Terminal 1. There you could go to the Atlantic Lounge which is a Priority Pass Lounge.
The bus runs every 10 minutes.
Then coming back you go the same way, getting on the bus at gate C08 in Terminal 1, and getting off at Terminal 2 Non Schengen bus stop, from where you go back to the transit area/H gates.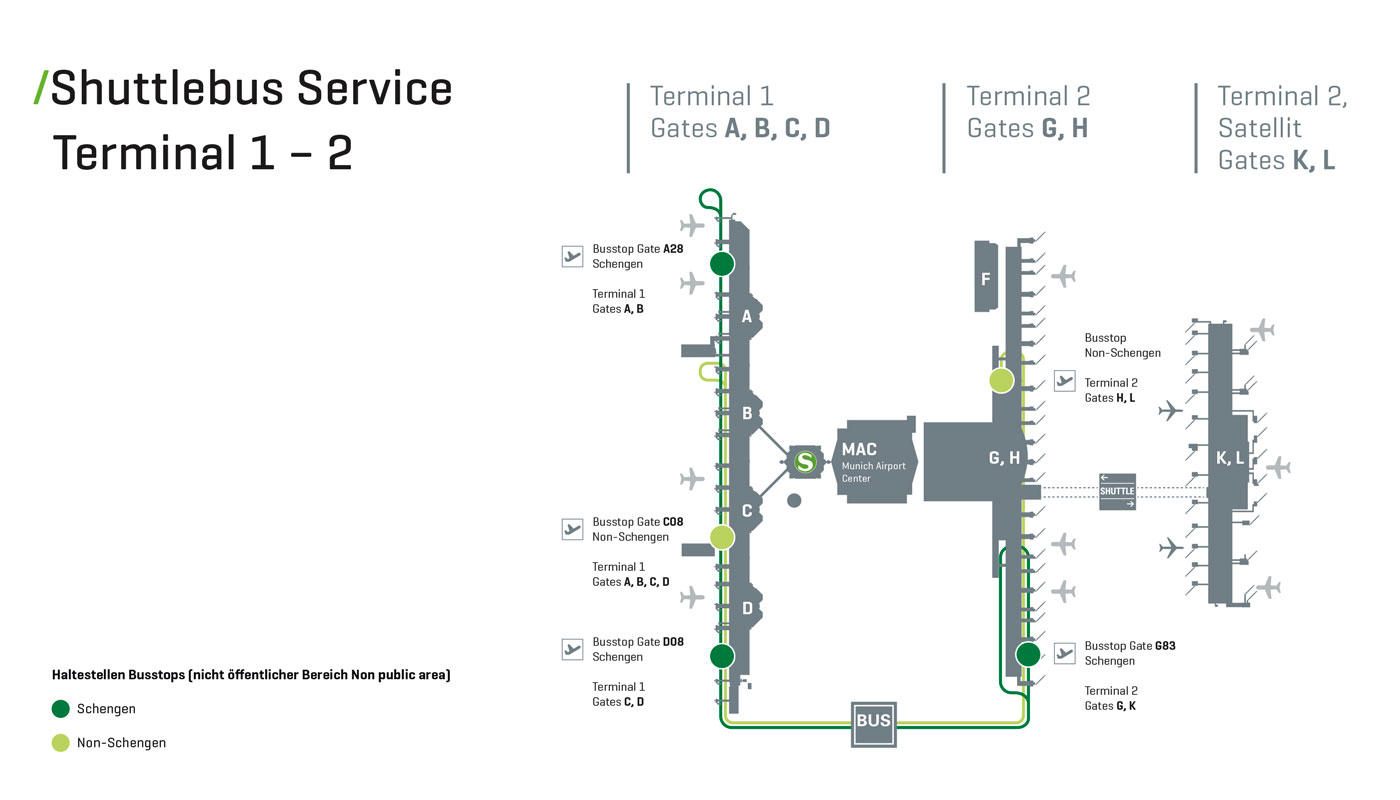 http://www.munich-airport.de/en/general/faq/umsteigen/index.jsp
In Terminal 2 you will see signs indicating Airport Shuttle Bus to Terminal 1. Follow the signs and you will reach an area of the Airport where you can see the outside area. Wait there as you cannot go out as the door is locked. The buses come every 10 or 20 minutes. You can see them. The driver will stop when they see you or else wave to them. He has the key for opening the door and then you can board the bus which will take you to Terminal 1. There also the Driver will open the door for you to enter the terminal. Same procedure to be followed for returning to Terminal 2.
The Munich Airport Centre connects Terminal 1 with Terminal 2, which is a 10 minute walk away. There is also a shuttle service between the terminals which runs every 15 minutes.