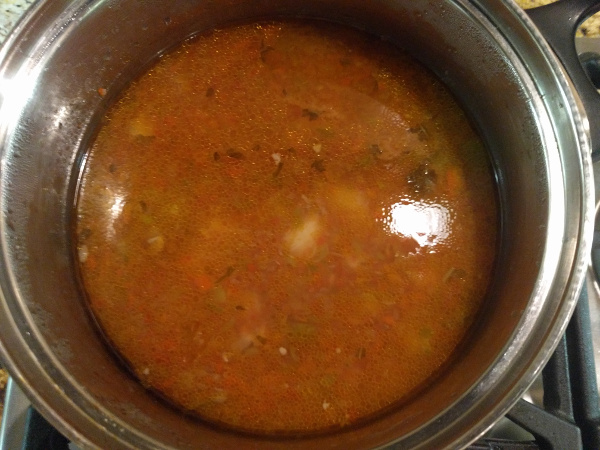 Add 8 cups of water to a pressure cooker
Add veal meat ( 2 steaks with bone)
Add cooking oil – 5 table spoons
Add salt – 2 table spoons
Put the lid on and seal it (twist the handle on the top to secure it in place).
Place the pressure cooker on the cooking stove and turn the knob to 6.
When a steam is starting to come out turn the know to 4 and keep boiling for 1.5 hours.
When the time is up open the valve and let the steam out.
Open the lid of the cooker pressure and take the meat out. Keep the water on the stove so it does not cool off.
Remove the bones and cut the meat into pieces with size of a nickel (5 cents) or a dime (10 cents)
Return the meat into the pressure cooker
Chop 2 bell peppers (1 green + 1 red) and add them to the cooker
Chop 1 onion and add it too
Peel and dice 3 potatoes into pieces the same size as the meat. Add them to the cooker.
Close the lid (but do not seal it this time) and boil for 30 minutes (knob at 6)
Open the lid and add 1 cup of grinded tomatoes (you can use a tomato paste instead).
Let it boil for another 10 minutes.
Turn off the stove and let it cool off  bit. You are done!
Serve with bread and a green salad on the side. Enjoy!